About Kingdom Roofing, Inc.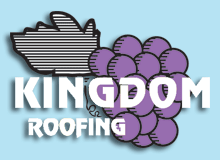 Kingdom Roofing, Inc. is a commercial and residential roofing contractor located in Fort Worth, Texas. With certifications through Firestone, Carlisle and DuroLast, we can cover the vast majority of commercial low slope single ply specifications being installed today. Additionally, even though it isn't specified much anymore, we still occasionally install hot asphalt applications due to our many years in the Public School sector.
MBCI, Berridge and Petersen Aluminum are some of the standing seam metal roof manufacturers that we have experience installing. Metal roofing accounts for about 1/3 of our annual volume which also includes various applications of soffit panels, wall panels and fascia applications
Tile roofing is another area of our expertise with numerous installations using Boral/Monier Lifestyle and Crown Roof Tile for concrete tile and Redland Tile, ClayMex Tile and US Tile for most of the clay tile installations. There are many other manufacturer's available to select from that we also have access to. The synthetic tile and slate manufacturers have been thinned out over the last few years due to product defects but DaVinci Roofscapes and a couple others are still going strong.
We have a strict focus on detail work within the roof systems we install. There are time tested details provided by manufacturers for us to follow and the adherance to those details is an absolute for our installers. The reason we continue to work for the same builders over the years is that this focus on quality detail work is recognized and it helps strengthen the builder's relationship with their property owners.
If you would like to have us participate with you on your next project, feel free to contact us regarding providing a proposal to you.